The town of Cesenatico
Cesenatico is a characteristic place of the Riviera that combines history, culture and good living. In the small and picturesque old town you can still breathe the atmosphere of the ancient fishing village, between the canal port designed by Leonardo Da Vinci and the alleys where there are museums, restaurants, markets and suggestive clubs. The ancient center is the right place for a relaxing walk and the beach is perfect for relaxation, the hinterland lends itself to food and wine and cycle tourism itineraries that, starting from Cesenatico, cross the whole of Romagna.
In addition to lovers of fun combined with culture and good food, Cesenatico is the ideal destination for families with children and for those looking for quality beach services and accommodation facilities.
Not to be missed…
• Visit the Maritime Museum with its two sections: the floating one in the ancient canal port, where it is possible to visit the trabaccoli, ancient boats, and the land one, with the history of maritime technologies and the exhibition of some wrecks of the 17th century.
• Listening to the concerts at dawn, which in summer take place on the beach of Cesenatico and are a very romantic and dreamlike experience.
• The "Great rustida of the fishermen" (14 August).
• Go to the beach at the tamarisk beach, a vegetal oasis in Valverde, born from the idea of creating a renaturalized and low environmental impact beach, characterized by the presence of tamarisks (trees and hedges).
• Piazza Brides of the Sailors.
• Visit the Conserve, ancient wells where fish were kept.
• Go to the Nove Colli, at the end of May, an international competition that attracts cyclists and enthusiasts from all over the world to compete along the roads of the Romagna Apennines.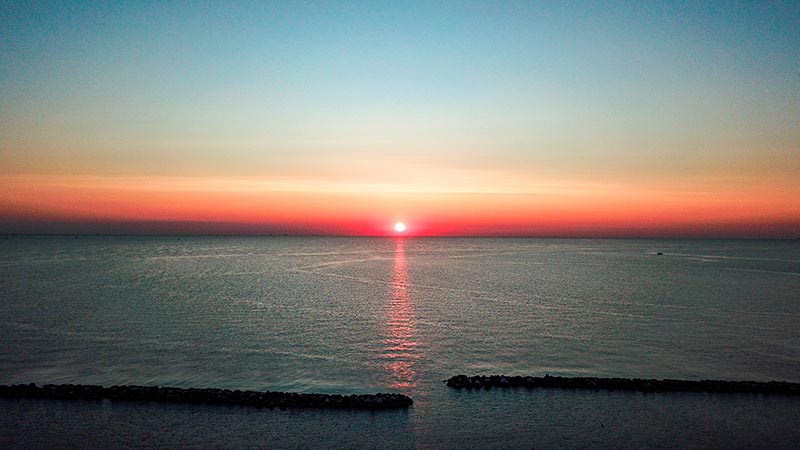 San Marino The oldest Republic of Europe, completely surrounded by Italian territory, between Romagna and the Marches.
San Leo, the marvelous capital of art, mentioned by Dante Alighieri in the Divine Comedy, is the heart of the historic region of Montefeltro.
Characteristic are the Fortress, the Pieve and the Duomo. Town also known for the events of Count Cagliostro, imprisoned in the fort.
Discover the splendid Gradara Castle and the village that framed the love story of Paolo and Francesca, two characters who really existed and are also present in Dante's hell.
Perticara is a fraction belonging to the municipality of Novafeltria, in the province of Rimini, known for its large sulfur mine, closed in 1964 of which the Sulfur museum remains today.
Salt pans of Cervia. They extend for 827 hectares, equal to about one third of the entire surface of the municipality of Cervia (province of Ravenna), and consists of more than 50 basins.